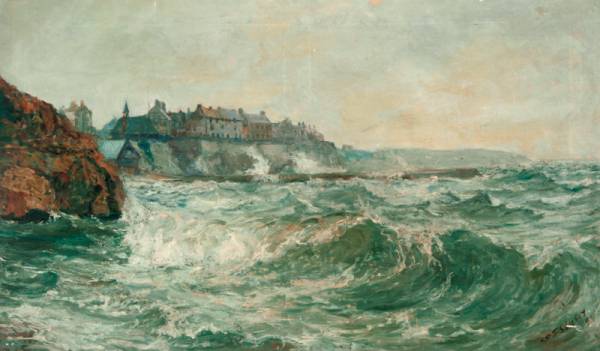 If you are anywhere near the North East there is only one place to be between 15-19th May and that is at Cullercoats for "A seaside words and music festival" celebrating Iron Press's fortieth anniversary. Iron Press has been run since its inception by Peter Mortimer - he is also the author of five or six books published by Five Leaves. I well remember him in bookshop days in the '80s coming to Mushroom Bookshop in Nottingham with copies of
Iron
Magazine. He had more hair back then but his fashion sense remains the same, lots of rings, lots of bright reds, yellows and oranges, a hat with a haiku on it...
His home in Cullercoats is no less vivid. At one time his Marden Terrace home had a neon haiku on its roof and the kitchen has a wall covered in panels painted individually by dozens of north east artists. And it is the connections to other types of writers, musicians and artists that will make the Iron weekend "not your average literary festival".
Where else can you put to sea in a boat to write haiku (an Iron specialism) or find most of the readings followed or interspersed with musicians from the north east? The sea - predictably - plays a major part with events at the RNLI, the local fish and chip shop and the fishermen's mission. Though Peter will be introducing some events the weekend is about Iron, not him, but we'll be there throughout the weekend with his books on a bookstall and take part as much as we can get away - though perhaps skipping the Iron Press Snooker Tournament.
I know I'll come back with a few publications but these will include
Nesting
, a set of short stories by David Almond, published for the anniversary - David Almond's first two books were published by Iron - and
Through the Iron Age - an editor's forty year journey
, a pamphlet by Peter. The other writers involved in the weekend include Melvyn Bragg - published by Iron in 1975 and the former assistant editor of
Iron
magazine, the shy and retiring Ian McMillan.
Apart from Peter Mortimer, other Five Leaves writers appearing include Andy Croft, in a short reprise of his Iron Press
Great North
, a collection written for The Great North Run. Participants in a two and a half mile run on the seafront will be given a signed copy of the book. Good job I bought mine years ago. There are also a few authors who have appeared in Five Leaves' anthologies.
But compared to Iron, Five Leaves is a young whippersnapper, twenty-two years younger. When Iron Press started Ted Heath was Prime Minister and Margaret Thatcher was quite unknown.
It is quite something to run a small press for forty years. Well done Iron Press! Well done Peter Mortimer!